Community Mandala Project ~ Art heals.
Community Mandala Project (CMP) is an initiative offering Mandala and other Meditative Art Workshops to inspire, empower, strengthen and transform people and communities.
Save
Please watch and share our latest videos and scroll down to learn more about the various workshops you can bring to your community, event, group, staff, team, friends and family.

Save
About the Workshops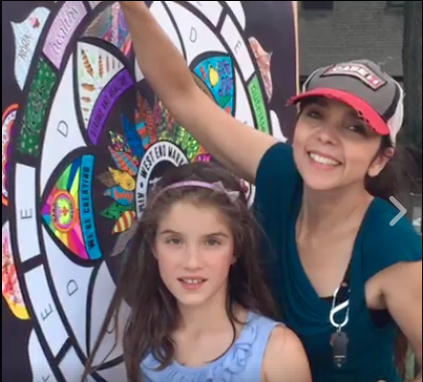 Mandala, zentangle & meditative coloring workshops help you relax, focus, restore, rejuvenate and manifest the changes you desire in life! They can simply be fun and whimsical, or you can go deep and work on personal growth. It's up to each individual! You'll set an intention for your art, access creativity and use the power of your stories while developing resilience, empathy and connection to self, others and nature.
This process can be empowering and profound. It can inspire change, boost confidence, improve self-esteem, increase self-love, provide self-care, build cooperation in teams, help you overcome obstacles, lift you naturally from depression, calm anxiety, ease loneliness, get you unstuck from anger and even aid in healing and recovery (addiction, domestic violence, illness, pain, loss or other trauma). The applications are endless!
Workshops are themed based on your needs, tailored to your group and taught by Donna Gentile, a seasoned artist, designer and arts provider who has been developing and teaching Mandala Art Workshops since 2004.
See a Menu of Workshops below!
Menu of Workshops
Watercolor Healing Mandala
Learn to draw a mandala from scratch, explore watercolor techniques, create your intention and allow the fluid healing of water and color to guide, relax, restore and inspire you! Workshop provides a unique experience that may help participants on their healing journey. Great for indoor functions, home parties or events. Participants leave with a 12″ x 12″ watercolor mandala that has special meaning along with cherished memories and a renewed connection to self, others and the world. Book Workshop
Save
Community Mandala Puzzle™
The Community Mandala Puzzle™ Workshop is a powerful, community-building experience custom designed to incorporate your logo and tagline as well as meaningful symbols and power words to reflect your message or philosophy. It is available as a 48-piece or 72-piece puzzle workshop facilitated by Donna Gentile at your special event or facility and you get to keep or gift the actual puzzle, which ranges from 44″ x 44″ to 50″ x 50″ of AWESOMENESS! Read more
Save
"I Am" Empowerment Mandala

Celebrate your authentic self and take back your power with the "I AM" Mandala Art Workshop! We've all experienced judgement in our lifetimes and sometimes, we can let those judgements become our own limiting beliefs. In this workshop,  you'll be asked to look at the stories you've been telling yourself, turn down your inner critic and fill your mandala with all that is uniquely "YOU" — a truly creative way to take back your power and celebrate your authentic self!
Save
Zentangle Wisdom Tree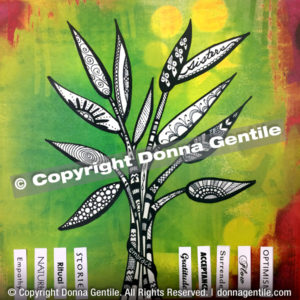 Let's have ZENTANGLE fun and deepen our connections! Learn how to draw Zentangle patterns in the shape of a tree, then add your positive intentions and favorite colors to create your "Zentangle Wisdom Tree." Oprah Winfrey said, "Turn your wounds into wisdom." We'll focus on the symbolism of your growth into a beautiful and unique person who has weathered hardships and who has broad experiences in life, which have made you who you are and given you great wisdom! You'll receive inspiration and instruction for drawing your unique tree, creating tangle patterns and techniques for applying colors, textures and power words. Recharge your battery, manifest positive changes and celebrate awesome YOU!
Save
More Workshops Added Soon!

The following workshops are currently available. We'll be adding even more workshops and descriptions in the next few days so please come back or Contact Us!
Save
Resilience Tree Mixed Media Collage

Manifestation Mandala
Healing Community Mandala Puzzle

"Seed of Life" Nature Mandala
View Photo Albums from dozens of Mandala & Other Meditative Art Workshops!
Purchase Mandala Art, Resilience Tree or Painted Hub Caps!
Experience
Workshops are developed with a great deal of thought and planning and are designed and taught by Donna Gentile of New Hartford, CT. Donna has been teaching Mandala and other Meditative Art Workshops in CT and around New England since 2004 and has worked with incredible organizations including:
Avon Senior Center
The Bushnell of Hartford (PARTNERS Art Enrichment Program) and Plainville Community Schools (CT)
CancerCare Healing Hearts Retreat at the Malibu Dude Ranch (Pennsylvania)
Canton Senior Social Services
Cherry Brook Health Care Center
Collinsville Hot Event with AIM for a Better Tomorrow
CT Department of Mental Health & Addiction Services (DMHAS)
The Connecticut Women's Consortium
CurArt (Addiction Recovery)
Cut Out Cancer at Milano Day Spa
Dogs Deserve Better Awareness Event with AIM for a Better Tomorrow
Farmington Valley Health District and Resilience Grows Here (Mental Health Initiative for Veterans & Community)
Hartford Performs (Art Enrichment Programs) and Hartford Public Schools
Hidden Acres Yoga
Lewis Mills High School
LGBT Community Event by Canton Senior Social Services
River Ridge At Avon (Assisted Living for Seniors with Dementia)
Susan Omilian's Archangel Group (Domestic Violence Recovery)
Toivo by Advocacy Unlimited
West End Market Event with AIM for a Better Tomorrow
Book a Workshop
For more information or to book a workshop, contact Donna Gentile. Workshop choices with descriptions and photos coming soon. Please come back! In the meantime, you can view Photo Albums on Flickr.
Design (More design on Facebook)