American Joule On The Road
What starts as a mother-daughter road trip for liberty takes twists and turns. Join American Joule and Little Kitts as they travel America on a quest to homestead.
Turn cell phone horizontally for best experience.
Join me, Little Kitts and our van Liberty as we trek across America to learn the old ways, share music, art and design, create for liberty, and find a constitutional county in which to homestead.
Follow us on social, watch trailer above, and stay tuned for American Joule On The Road Episodes in 2023. I'm American Joule, and I'll see you on the road! 🚐♥️🇺🇸
American Joule Music
American Joule offers entertainment, connection and meaning and consists of Donna Gentile on vocals and guitar, and occasionally special guests. People are moved by Gentile's rich, vintage vocals, storytelling lyrics and authenticity. Prepare to feel something, laugh and connect!
Listen to Gentile's Music is Medicine album and check out more about her music.
What is American Joule?
American Joule symbolizes the measurement of energy and a commitment to stand up for truth, liberty and America.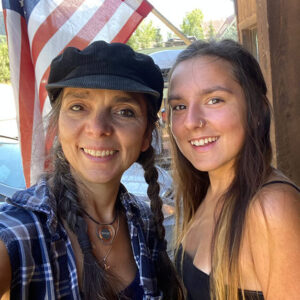 The American Joule On The Road journey began in 2021 when Donna and her daughter converted their vehicles and headed west for liberty, but there's a back story…
After becoming a mother, music and mandala art helped Donna heal, take back her power and inspire others to live an exciting life of thriving after abuse. She went on to raise an empowered daughter, teach art workshops for healing and perform original music with a message of triumph. Domestic violence and a broken court system ignited Gentile's passion for freedom and justice—and she believes it enabled her to discern truth and break out of the spell that much of humanity is under.
You are invited to join Donna on a journey to sovereignty as she hones her homesteading skills in the Arizona desert and shares music, art and design for healing, empowerment, transformation and liberty. Please check out art on the road, creative tools for liberty and workshops. If you care about saving America or ending crimes against humanity and animals, check out SovereignSpark and Creatrix Videos.
Thanks for visiting! Please support the journey below and Subscribe for Updates.
Powerful teaching tools to heal, empower and strengthen people, relationships and communities are in development, but your input and support are needed. Contact to give input. To support, use buttons below or find donnamgentile on Venmo, Cash App or PayPal. Thank you!
Shop
Creative tools, resources and inspiration for healing, empowerment, liberty and America First education. Twenty years of workshop content is being packaged for digital download to bring you powerful tools for your classroom, home school, group, gathering or event. Sign up for email updates. Together we rise!