On the Road
Ever wonder what van life is really like? After years of dreaming, downsizing, creative manifesting and many months of hard work, the dream to travel America in a van finally came true, and what a ride it's been. I hope the American Joule journey inspires you. Read on to see what it's all about, and if you like what it represents, please show support.
Join me, Little Kitts and our van Liberty to see what life is really like on the road as we travel America working on farms, learning the old ways, living in community, creating for empowerment and fighting for freedom on our journey to homestead.
Watch the American Joule Trailer and Follow on Rumble for episodes airing in 2023.
I'm American Joule, and I'll see you on the road! 🚐♥️🇺🇸
What is American Joule?
We are all American Joules!
"Joule" is the measurement of energy. "American Joule" is about holding oneself accountable for how energy is spent and using that energy to nurture love, appreciation and respect for America and all that she stands for.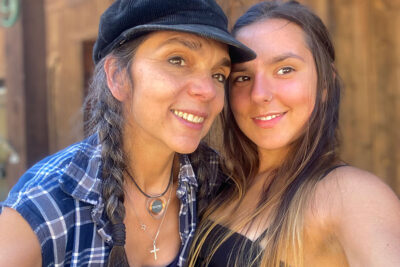 Hi, I'm Donna Gentile and that's my precious daughter Kira with me in the photo.
The American Joule On The Road journey began in 2021 when Kira and I converted our vehicles and headed west for liberty with our cat Luna.
But there's a back story…
As a young mother, music and mandala art helped me heal, take back my power and shine my light after abuse. The journey to thriving ignited a passion in me for freedom. It enabled me to discern truth and break out of the spell that much of humanity is under. I went on to raise an empowered daughter, run a design business, teach art workshops for healing and perform original music with a message of triumph. After my daughter became an adult, and our freedoms were at risk again, we decided to convert our vehicles and head west for liberty.
Follow American Joule on Rumble to see what life is really like on the road as I travel America honing my homestead skills and earning my keep as a "workawayer" on farms and at alternative communities. I'll share the van build, adventures, discoveries, music, art and stories on the road. It's not all glamorous, but it's my freedom story, and I hope it inspires you!
It's two years into life on the road and I'm writing an empowerment book inspired by the journey through domestic violence with connections to the fight for freedom humanity faces today. Over the years, friends I helped have told me that I need to write this book. I'm finally putting pen-to-paper praying that it will inspire, empower and transform lives.
If you'd like to help empower others and join me in the creative fight for freedom, please show support. Thank you & blessings!
If you'd like to support the American Joule Journey for empowerment and freedom, please use buttons below or find donnamgentile on Venmo, Cash App or PayPal and Subscribe for Updates. I'm working on rewards for a crowd-funding campaign, but in the meantime, any contribution here and now is greatly appreciated.
Thank you and blessings. Together, we rise!