Give the gift of music this Christmas. Order now to receive in time for the holiday. Purchase 4 CDs and get one free!
"Brown paper packages tied up with string, these are a few of my favorite things!"
Get Music is Medicine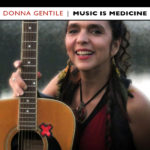 Gentile recently released her debut album Music is Medicine — an uplifting and powerful EP you'll want to own and gift to others.
Get it now on disk, stream or download!
Purchase CD Disk — Great Stocking Stuffers!
$10 per CD + shipping. Secure checkout. Eco-friendly mailer. Little things matter and we care!
Now through December 30, purchase 4 CDs at the regular price and you get one FREE CD! That's just $8 for a lifetime of meaningful, high-quality music. Select Quantity 4 at checkout and 5 will ship to you.
Download Album or Singles
Listen and download the Music is Medicine album or singles to your phone, computer or device. To purchase download, click on the shopping cart icon to the far right. Thank you!
Fans are loving the new EP, which features Gentile on lead vocals, harmonies, acoustic guitar and Native American hand drum, and Tom White on fiddle, mandolin, viola, Dobro, bass and percussion.
Album co-produced by Donna Gentile, Tom White of Symplicity Sound (Middleburgh, NY) and Tommy Skarupa of TSkarupa Productions (Torrington, CT).
"I was listening to your songs and every one of them pulled me away—out of where I sit—falling into the song—just like magic… I love your songwriting. It reveals a truth about life, as all good poetry does."

"A diamond in the rough!"
"One of Connecticut's all time treasures. A rare talent with a powerful, rich and unique vintage country voice. You won't want to leave."

"Donna Gentile is just as her unique name intimates… Gentle, yet in touch with what is Relevant and happening Today. Through her own personal trials, and view of the world around her, she spins a web of grace musically that is unmistakably 'Her.' More than a musician, Donna provides a Window to the World of struggle… and ultimately Triumph. Whether as a motivational speaker or a musical treat, she offers the youth and adults of today her perspective on how to appreciate the Moment—with high expectation and Passion—as 'Life is not a rehearsal'."

Book Music
Donna Gentile performs Americana, Folk, World, Roots and Native Spirit-inspired originals and covers and offers a combination of entertainment, connection and meaningful experience for your special event, retreat, party or function.
There is a velvet, honey and rustic edge to Gentile's sound. Audiences are moved by her rich vocals, inspirational stories and authentic delivery. Original lyrics are woven with deep meaning and upbeat melodies that haunt and hook.
Donna believes music is medicine and that we all come from indigenous peoples. She uses music and stories to empower, comfort, inspire and uplift others as well as to foster connection and invite conversations about the old ways, teaching stories and our ancient, colorful, indigenous roots.
Nutmeg Chatter Interview & Song Snippets

Listen to Episode 93: Donna Gentile: Music is Medicine on Nutmeg Chatter and hear snippets of the songs on Gentile's debut "Music is Medicine" EP.
Helping Teen Victims of Sexual Assault
20% of purchases through 9/15/18 (that's $222) went to AIM for a Better Tomorrow's "Dreamcatcher" program helping teen victims of sexual abuse in Connecticut (USA). Thank you to all who pre-ordered the EP. Your purchase is helping a great cause!